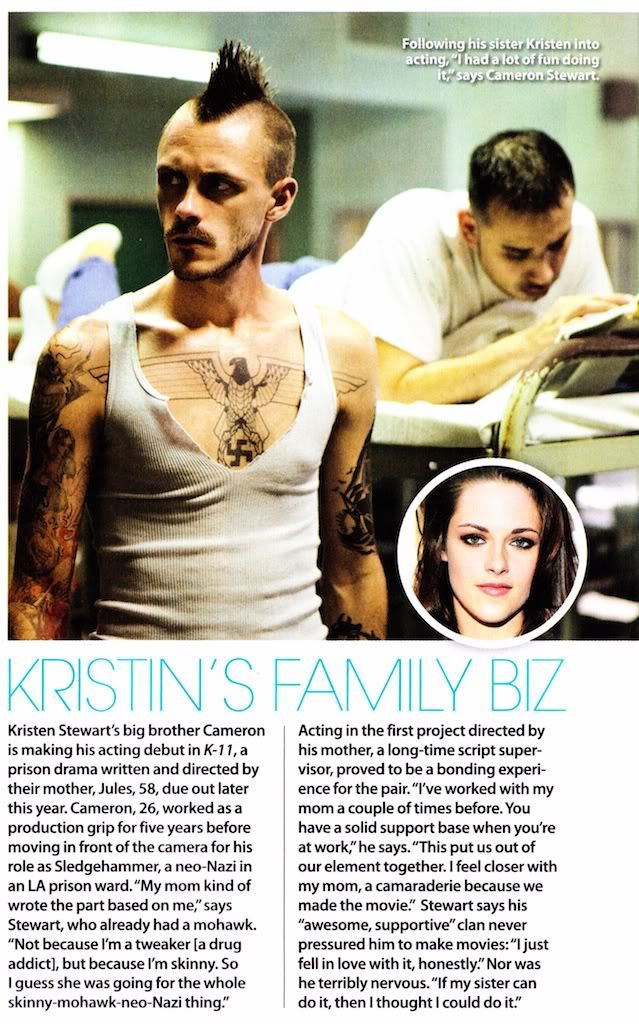 Kristen Stewart's big brother Cameron is making his acting debut in K-11, a prison drama written and directed by their mother , Jules, 58, due out later this year. Cameron, 26, worked as a production grip for five years before moving in front of the camera for his role as Sledgehammer, a neo-Nazi in an LA prison ward. "My mum kind of wrote the part based on me," says Stewart, who already had a mohawk, "Not because I'm a tweaker [a drug addict], but because I'm skinny. So I guess she was going for the whole skinny-mohawk-neo-Nazi thing."
Acting in the first project directed by his mother, a long-time script supervisor, proved to be a bonding experience for the pair. "I've worked with my mom a couple of times before. You have a solid support base when you're at work," he says. "This put us out of our element together. I feel closer with my mom, a camaraderie because we made the movie." Stewart says his "awesome, supportive" clan never pressured him to make movies. "I just fell in love with it, honestly." Nor was he terrible nervous. "If my sister can do it, then I then I thought i could do it."
In this week's issue of 'Who' magazine in Australia (April 4).